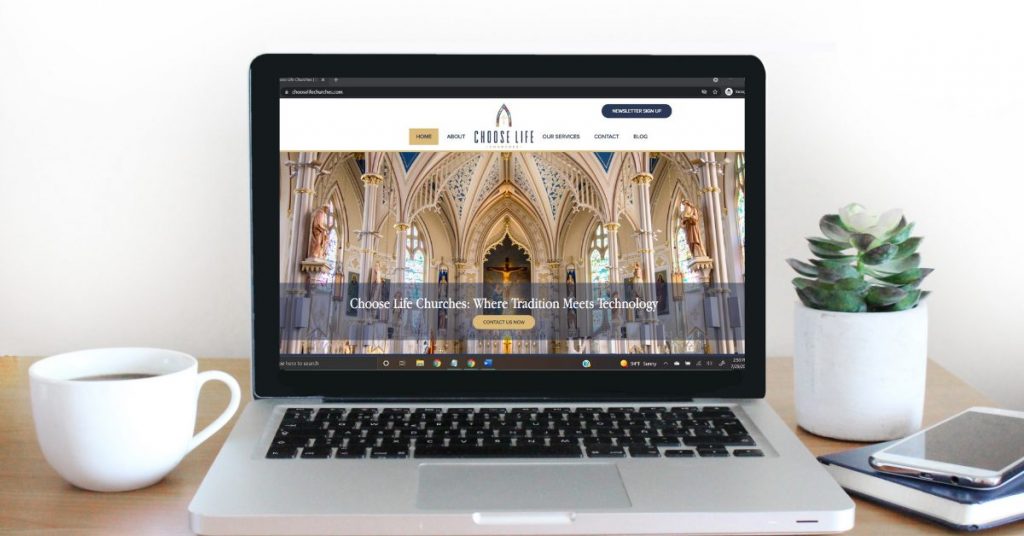 A website redesign may sound overwhelming to you. You probably know your church website needs a facelift, but wonder where you'll find the time to give it any attention. What if there were simple things you could do today to make a big difference?
In this resource, we cover three basic tips to update your website to be fresh, clean, and fast-loading in order to draw people to your parish.
Before we jump into what you can do to update your website, we first need to answer this question:
Does my website really need a facelift? Why?
Think of your website as a business card. It is many people's first introduction to your church, and we all know how important first impressions are.
Your website is where people in your parish will go to find the information they need about service times, contact information, and upcoming events. If this information is outdated or if your site takes too long to load, people won't stick around and won't find the answers they need.
Finally, your website is important because it facilitates connection in an isolated world. Keeping it up to date means people can find the resources they need for connection when they feel isolated or disconnected from the community.
With that in mind, here are the three things you can do today to improve your website!
Make Your Purpose Clear
According to one recent study, people only spend 5.59 seconds reading the content on your church's homepage. This means you need to have a clear purpose for this page (and every other page) on your site.
WHAT DO YOU WANT PEOPLE TO DO?
Sign up for your email list?
Register for an event?
Come to Sunday Mass?
Having a clear purpose will not only keep people on your page longer but also help them become more engaged in your church.
To begin your church website review and understand if your purpose is clear, ask key staff members or volunteers to spend 6 seconds on each of the most important pages on your website, and make a shortlist:
What are the action items the page is asking people to take? 
What should the ONE action item be on each page?
Once you have those lists, decide the purpose of each page and then narrow down the content and call to action to be about that one thing.
This part can take some time, so plan out blocks in your schedule to prioritize scanning each page of your site. Make a list of the pages that need to be edited, and then assign volunteers or staff to help write new content for those pages.
While this is time-consuming work, it will provide impact when people can more easily find what they need and be more connected to your church.
Improve Your Website Speed
If your web page takes longer than 2 seconds to load, most people will leave. We all know the frustration of waiting on a website to load and are conditioned to want information quickly.
It doesn't matter how well-designed and attractive your website is, if it takes longer than a few seconds to load, nearly half of the visitors to your site will bounce.
Utilize PageSpeed Insights by Google to analyze how long it takes your website to load. This free service will give tips on how to improve your website's speed.
A big culprit of slow load times is large image files. You can resize your images before uploading to your site to make sure they don't slow your pages down.
Help People Connect On Your Church Website
According to a recent church report, these are the things most people are looking for when they visit a church website:
What time is your mass?
What activities or ministries do you offer?
Where are you located?
Can I listen to or watch services online?
You want to make sure this information is easy to find so they can get plugged into the life of your church.
From your homepage, it should be easy to navigate to all of this information. Most of it can live on your homepage, in fact.
Do you have a link to your Livestream? Put a button on your homepage for people to easily find.
What are your service times? List them near the top of your homepage so people don't have to dig for this information.
Ask a team of church members to help you view the site through the eyes of a visitor. Enlist the help of people new to your parish and ask them what they think is missing from the website that would make your church more inviting to visitors.
We recommend updating the content and look and feel of your website every 3-5 years. This allows you to maintain website best practices and can make your church more visible online. Most importantly, it will help people find your church when they need you the most.
For help making these and other updates to your website, contact Choose Life Churches today! Our team would love to partner with your church in helping you connect more parishioners to your church community.
Contact Us
We know investing in online strategies can be time-consuming and difficult to manage with your al- ready busy schedule. We'd love to talk with you about the monthly services we provide to take this off your plate. Contact us to learn more about how we can help with your marketing endeavors!